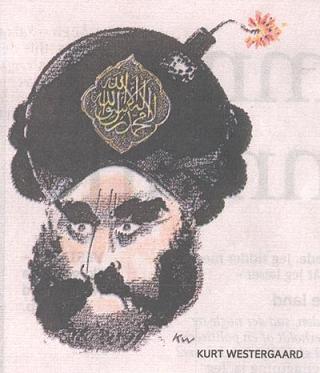 From
Daily Times

(Pakistan)
:
A resolution against the publication of blasphemous caricatures of the Holy Prophet (peace be upon him) in various countries will be presented in the upcoming session of the United Nations General Assembly (UNGA), an Organisation of Islamic Conference (OIC) representative said on Tuesday.

"The resolution will demand legislation against the publication of blasphemous caricatures of revered personalities and derogatory remarks against religions.

It will also demand [sacrilegious] actions be declared a crime

," OIC Secretary General's Special Representative on Kashmir Ezzat Kamel Mufti told a news conference.

Mufti said a particular group in America and the European Union had been launching attacks against Islam. "However, we should not get emotional and resort to any kind of violence, including suicide bombings," he said. source

Most Muslims don't understand that these actions only make the pictures more popular. Here is a Google image search of
Mohammad
and
Prophet Mohammad
.
(via
Jihad Watch
)